If you live in Puerto Rico, US Virgin Islands, Hawaii or Alaska there is a $50.00 surcharge for shipping that will be added on at checkout.

About the PureWave DG-1500 Digital Generator:
You are looking at the new 2022 Digital 1500watt Pure Sine Wave Gas Generator Inverter. This unit is very lightweight, portable, safe on all electronics, 50% more fuel efficient & quieter than traditional generators. The PureWave DG-1500 is the most advanced inverter generator with true digital signal processing with pure sinewave output. This DG-1500watt is perfect for running any size house refrigerator & freezers, all electronics, fans, lights, kitchen appliances and power tools. This is the worlds quietest digital generator inverter at 49 decibels.
Save up to 50% on gas with our PureWave DG-1500 digital watt generator. You will get up to 5 hours running time on a tank of gas at full load and 8 hours at quarter load. Our generator has been tested with Honda and Yamaha digital generators and this unit performed the same with the same fuel efficiency and the same exact quiet noise level (49dba) as the 2 major brands (Honda & Yamaha) that will cost you hundreds of more dollars in any store.
The generator comes with a full 1 YEAR free part warranty. We also give all our customers a 30 day satisfaction return for refund or exchange warranty. We are always fully stocked on all parts for our DG-3000 watt digital generator if you ever need them in the future. Any questions at all Please call us at 843-236-3172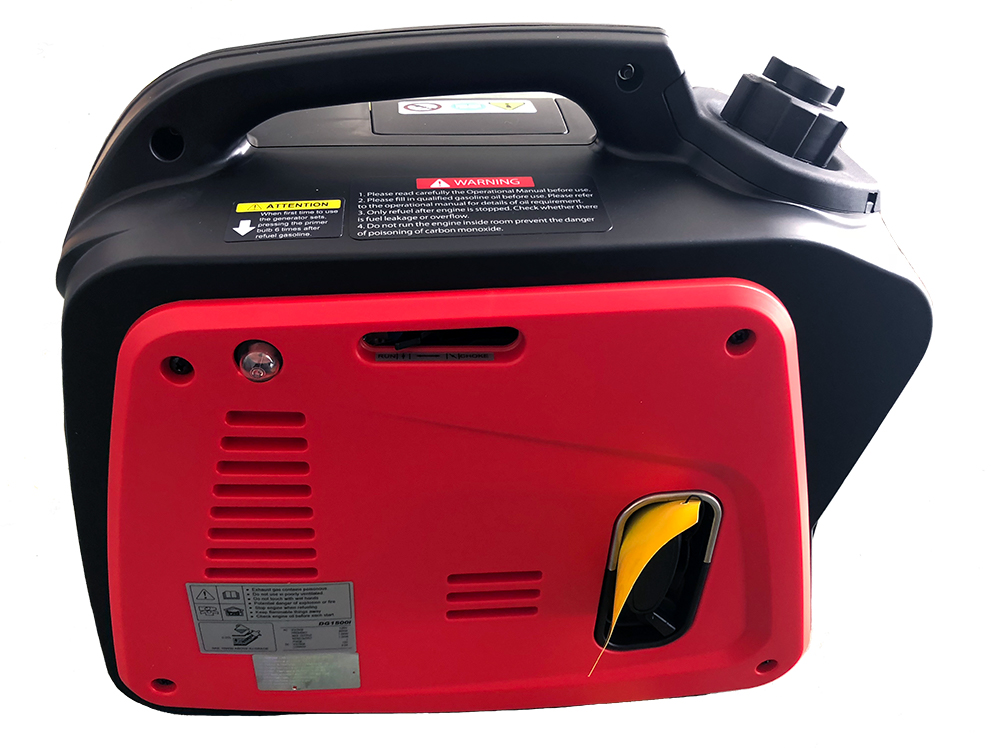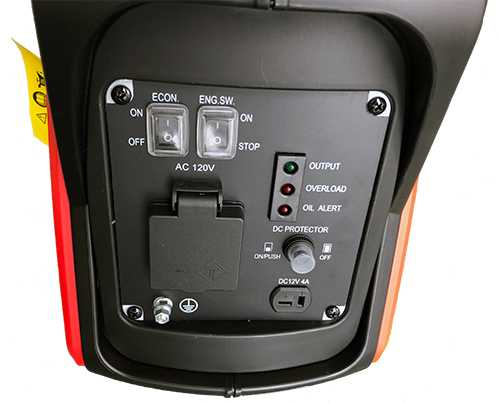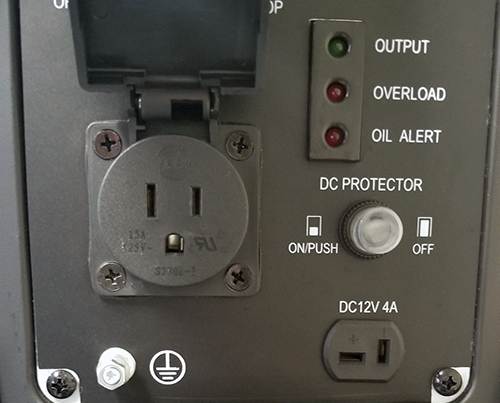 Why Buy from Scooter Wholesales LLC?
Our company has been around for almost 2 decades. We know our Generators like no other company. We have 24 hour online email support with trained mechanics to help you with any issue at anytime. You can also call us during business hours for help over the phone 5 days a week 843-236-3172.
PureWave DG-1500 Digital Generator Specifications
Engine:

FORCED AIR-COOLED, 1 CYLINDER 4-STROKE OHV ENGINE, 60cc

Displacement:

60cc EPA,CE,GS approved.

Max. power output:

1500 watts

Rated power output:

1200 watts

Bore*Stroke(mm):

TDI

Starting system:

Recoil starting

Fuel tank capacity:

3.0L

Continuous operating hour:

5.0 hours at half load

Noise (7m away):

49dba

Rated output frequency:

60HZ

Rated output voltage

: 120V, 20A

D. C. Output:

12V 4.3A

Automatic Shut-off if Oil is Low:

YES THIS MACHINE HAS THIS FEATURE BUILT INTO THE UNIT

How Many Outputs:

1

Total length:

17″

Total width:

11″

Total height:

14″

Net weight:

27 lbs

Packing size:

19″ x 12″ x 15
Standard Features:
Large-capacity air cleaner
Large-capacity muffler
Auto voltage adjuster
Oil alert system
Circuit breaker
Circuit protector
UPGRADED outlet to 20a
FOR ANY QUESTIONS AT ALL. Please EMAIL US or CALL US AT 843-236-3172. We take all credit cards over the phone or online with PayPal.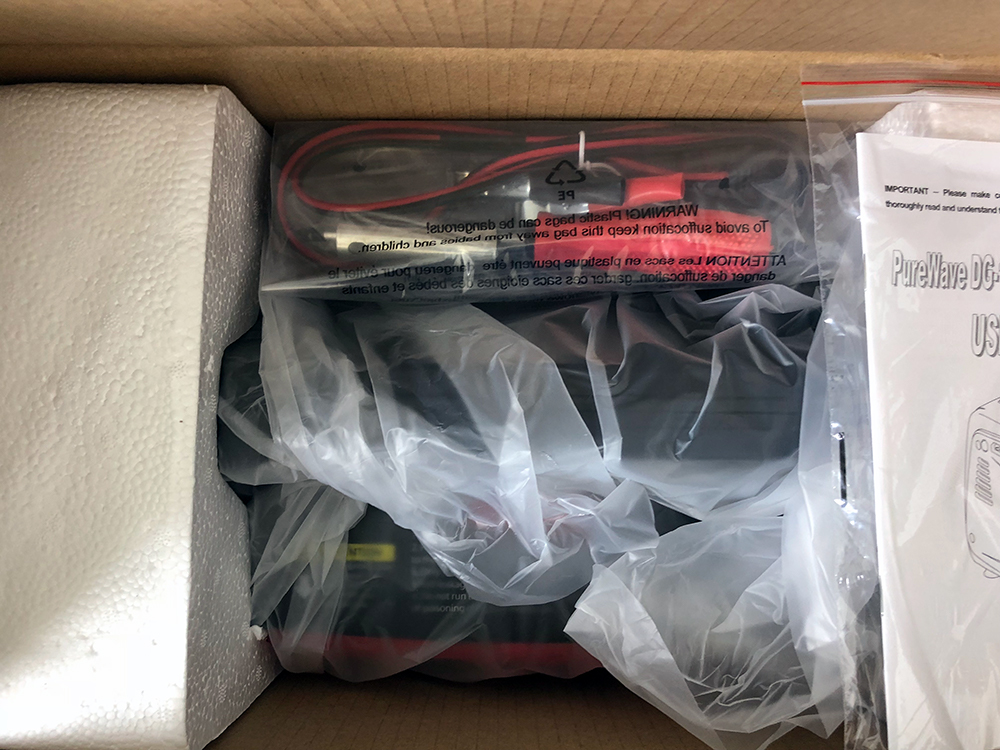 Inverter Generator vs Traditional Generator
If you have used a traditional/conventional generator, you have probably experienced that when there was a fluctuation in the power, the lights dimmed and then went back to full power. This fluctuation of power is quite dangerous to many modern-day high-tech and sensitive equipment. For example, if your computer was powered by a conventional (non-inverter) generator and the voltage fluctuated, the computer would shut down prematurely. This premature shut down not only causes inconvenience, but often leads to loss of unsaved data and files. Furthermore, sudden fluctuations of power can often be fatal to many of these types of equipment. You will not experience this fluctuation of power using an inverter generator.
How it Works
An inverter generator produces 3-phase AC power at a high frequency. This high frequency AC Power is then converted to DC power. In a final step, the DC power is then inverted back to AC at 120 volts, 60hz for use by common appliances and equipment

Intelligent Throttle Technology (Variable Speed Operation)
In contrast with the traditional generators that run at a constant RPM/speed, DG-3000 portable inverter generators are equipped with microprocessor controlled Intelligent Throttle Technology which automatically adjusts the engine speed to precisely match the load. So, if the generator is not powering many appliances, it runs at a lower engine speed. This allows the generator to run quieter while increasing fuel efficiency, increasing engine life and extending running time between refueling. Once the load is increased, this inverter generator increases the speed and RPM automatically to meet the demands of the load. The variable speed feature of the DG-3000 inverter generators provides many advantages, some of which include:
Increased Life Span Due to Decreased Engine-Wear.
Lighter Weight and Compact
Fuel Efficient and Economical to Operate
Quiet Operation
Environmentally Friendly
Quiet Operation
DG-3500 inverter generators are much quieter than conventional generators. This is because the inverter generators do not run at full speed all the time. As mentioned, the inverter generator is controlled by a microprocessor so it only produces what is needed at any given time.
DG-3500 inverter generators are even much quieter than many other inverter generators in the market. DG-3500 inverter generators are equipped with sound dampening insulation materials that further decrease the level of noise even when running at full speed and maximum load.
The quiet operation of the DG-3500 inverter generators makes them a perfect candidate for use in RV's, boats and at campgrounds, recreational sites, exhibition booths and concessions stands.
Pure Sine Wave Output
DG-3500 inverter generators produce pure (true) sine wave power, the same type and quality of AC (Alternating Current) power produced by the utility grid. Pure sine wave output is a far superior (cleaner) form of output power as compared with modified sine wave or square wave power. Increasingly, most modern electrical or electronic devices such as laptop computers, stereos, laser printers, sensitive medical equipment, digital clocks, kitchen appliance with multi-stage timers, and variable speed or rechargeable tools can only function properly with pure (true) sine wave power. Similarly, pure (true) sine wave inverter power may be needed for maximum efficiency of inductive equipment, to reduce audible and electrical noise in devices with audio-visual components and to enable proper functioning of fluorescent lights with electronic ballasts.
DG-3500 inverter generator's pure sine wave output provides suitable power for operation of all electronic and electrical appliances and devices, whereas the inferior, conventional generators produce modified or square wave power. These conventional generators are not capable of providing suitable power to many devices. Both the function and longevity of electrical/electronic devices and appliances are improved with the use of pure sine wave power.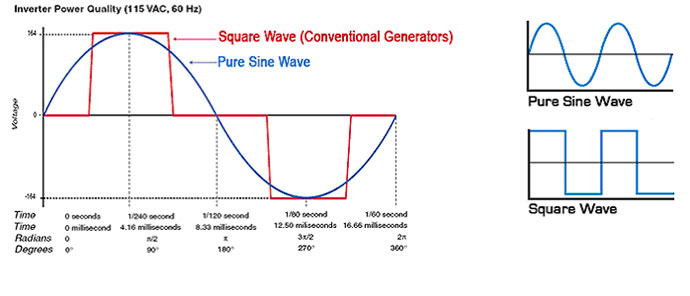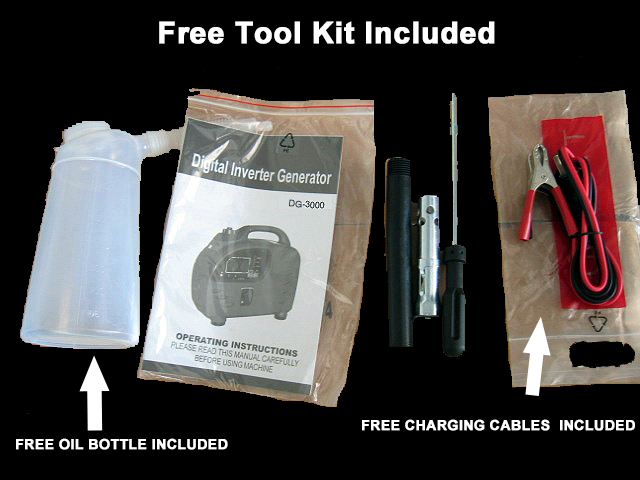 Shipping & Warranty:
GENERATOR WHOLESALES offers a FULL 1 year free part warranty. This warranty covers factory defects and defaults only. We do not cover misuse or broken parts caused by the user or by any other event. If you have questions about our warranty, please e-mail us. GENERATORS CAN ONLY BE RETURNED WITHIN THE FIRST 30 DAYS FROM THE DATE YOU RECEIVE THE GENERATOR & IT MUST BE IN GOOD CONDITION & AUTHORIZED BEFORE BEING RETURNED. THERE IS A 10% RESTOCKING FEE ON ALL RETURNED ITEMS. We will however during the 12 MONTH free part warranty period provide you with free parts and we pay the shipping cost on the warranted parts to your house. GENERATOR WHOLESALES LLC will not be responsible for shipping charges on received or refused packages, part returns, or generator returns. Freight collect and COD packages will not be accepted. If you bid on this auction and win you will be obligated to follow this warranty to the fullest and this warranty will be present in any further issues if such would arise. Everyone will receive a copy of the warranty with the manual.
Insured shipping & handling fees are FREE to anywhere in the continental USA. WE INSPECT THE GENERATOR BEFORE PACKAGING ALL FOR QUALITY INSURANCE! We accept all credit cards through PayPal or Stripe online or you can call us and pay over the phone 843-236-3172
FOR ANY QUESTIONS AT ALL PLEASE EMAIL US OR CALL US AT 843-236-3172.